Friday, 24 July 2009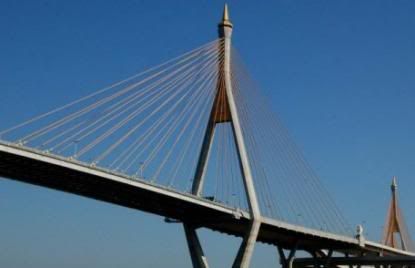 The
Industrial Ring Road Bridge
is part of the 13 km long Industrial Ring Road connecting southern Bangkok with Samut Prakan Province. The Industrial Ring Road Bridge crosses the Chao Phraya River twice, with two striking cable-stayed spans of lengths of 702 m and 582 m supported by two diamond-shaped pylons 173 m and 164 m high. Where the two spans meet, another road rises to join them at a free-flowing interchange suspended 50 metres above the ground.
The Industrial Ring Road Bridge over the Chao Phraya in Bangkok are named after a member of the Royal Family; in this case, it has been planned that the be named after Dipangkorn Rasmijoti, fifth son of Crown Prince Vajiralongkorn, although as of 2009 the naming has not been made official. The unofficial name "Mega Bridge" was also widely used.
Between the two bridges an elevated central interchange connects the main North-South route with the western approach. The three approaches are designed as continuous concrete box girders with spans varying between 64m for the high level viaducts to 36m for the will consist of eight miles of roadway and two, 560-foot-high, cable-stayed bridges. The road and its so-called Mega Bridges will span the Chao Phraya River twice without touching down in between because of the meandering flow of the river on its way to the Gulf of Thailand. Further, in between the two bridges, a 165-foot-high intersection will be constructed for motorists traveling north, eliminating the need to cross the second bridge; the narrow strip of land between parts of the river makes it impossible to construct a surface-level intersection.

Marvel of of The Industrial Ring Road Bridge is The Mega Bridge in Bangkok Thailand then Thailand Post has chosen The Industrial Ring Road Bridge to set in the
Amazing Thailand Postage Stamps
Story by:wikipedia.org,gobridges.com Images
by: bridges.mottmac.com
Posted by

WorldmedTourism on 06:38
Labels: Industrial Ring Road Bridge, Stamp collecting, Thailand, travel