Sunday, 1 August 2010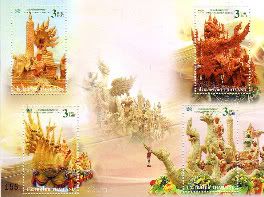 Buddhist Lent Day is a period of three lunar months during the rainy season when monks are required to remain in one particular place or wat (temple). Khao Phansa Day is on the first day after the full moon of the eighth lunar month (this year is on July 14th,2003) and marks the beginning of the three-month Buddhist 'lent' period. The tradition of Buddhist Lent or the annual three-month rains retreat known in Thai as "Phansa". Khao Phansa means to remain in one place during the rainy season. Phansa represents a time of renewed spiritual vigor and Khao Phansa festival is a major Buddhism merit-making festival.
The day before Khao Phunsa Day is Asalha Puja Day. The day falls on the full moon of the eighth lunar month (July 13th,2003). This day is also very important in Buddhism. It was on this day that the Lord Buddha preached His sermon to followers after attaining enlightenment. The day is usually celebrated by merit making, listening to a monk's sermon, and joining a candle lit procession during the night.
During Khao Phunsa period monks should not venture out or spend the night in any other place except in cases of extreme emergency and, even then, their time away must not exceed seven consecutive nights. This is a time for contemplation and meditation for monk. The mork meditates more, studies more and teaches more. For Buddist Phansa is also customarily the season for temporary ordinations. Young men enter the monkhood for spiritual training, to gain merit for for themselves and their parents, it is a feeling that a man who has been a monk cannot be considered a mature adulf.
Just before Khao Phansa (Buddhist Lent) Day, which falls on the 15th day of the waxing moon in the 8th lunar month, Buddhists all over Thailand usually hold a candle procession to offer wax candles to the monks. In Ubon Ratchaburi, an elaborate Candle Festival is held in July every year. Highlights of this Festival are a variety of wax candle sculpture contests, float contests, and a beauty contest. A large number of Thai and foreign tourists visit Ubon Ratchathani during this period to admire and appreciate these magnificent carved candles.
Ubon Ratchathani is home to a large number of master craftman in the art of wax candle carving and wwax adornment molding who can ecpertly apply ancient candle carving and local wisdom to the crafting of present-day exquisite Buddhist Lent Candles. This Festival reflects the Thai people's devout adherence to Buddhism, a religion that spans a period or over 2,500 years.
Posted by

WorldmedTourism on 07:03
Labels: Candle Processing Festival, Stamp collecting, Thailand