Sunday, 13 September 2009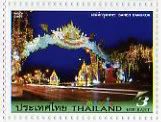 Ratchadamnoen Avenue Ratchadamnoen: the right approach, the connections between the Grand Palace and Dusit Palace. There are three parts:

• Ratchadamnoen Nai or inner journey, beginning with the Grand Palace is located on Sanam Luang to sound Ratchadamnoen.

• The Ratchadamnoen, Central Avenue was in the middle or how comprehensive the time, was built during the reign of King Rama V (1868-1910) Ratchadamnoen Links Ratchadamnoen Nok and Nai. Started in Mount Gold Sanamluang. Monument of Democracy is the remarkable point in its Ratchadamnoen.

• Ratchadamnoen Nok road, or outside, near the Dusit Palace, went to Monte Oro to straighten the Ananta Samakhom Throne Hall. Today Ratchadamnoen Avenue is the central government administration. Most departments are in this country, the organization
Special Thank : Picture By :
www.ramada-bkk.com

Amazing-Thailand-Postage-Stamps-Collections
Posted by

WorldmedTourism on 20:14
Labels: Stamp collecting, Thailand