Sunday, 13 September 2009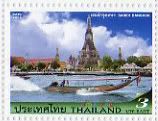 Wat Arun is a Buddhist temple (wat) in the Bangkok Yai district of Bangkok, Thailand, on the west bank of the Chao Phraya River. The full name of the temple is Wat Arunratchawararam Ratchaworamahawihan
Architecture
The outstanding feature of Wat Arun is its central prang (Khmer-style tower). It may be named "Temple of the Dawn" because the first light of morning reflects off the surface of the temple with a pearly iridescence. Steep steps lead to the two terraces. The height is reported by different sources as between 66,80 m and 86 m. The corners are surrounded by 4 smaller satellite prangs. The prangs are decorated by seashells and bits of porcelain which had previously been used as ballast by boats coming to Bangkok from China.
The central prang is topped with a seven-pronged trident, referred to by many sources as the "trident of Shiva".
Around the base of the prangs are various figures of ancient Chinese soldiers and animals. Over the second terrace are four statues of the Hindu god Indra riding on Erawan.
At the riverside are 6 pavilions in Chinese style. The pavilions are made of green granite and contain landing bridges.
Next to the prangs is the Ordination Hall with the Niramitr Buddha image supposedly designed by King Rama II. The front entrance of the Ordination Hall has a roof with a central spire, decorated in coloured ceramic and stuccowork sheated in coloured china. There are 2 demons, or temple guardian figures in front.
Important destinations. Thailand Post has brought in included Amazing Thailand (2nd Seiries) Postage Stamps - Saneh Bangkok.
Special Thank : Picture By :
en.wikipedia.org
Posted by

WorldmedTourism on 23:11
Labels: Stamp collecting, Thailand